via @EL_TWETTER_NICA: Proximamente en cine! #Nicaragua pic.twitter.com/lz4FIk7Pim — Reportes Nicas! (@ReporteNi) May 17, 2014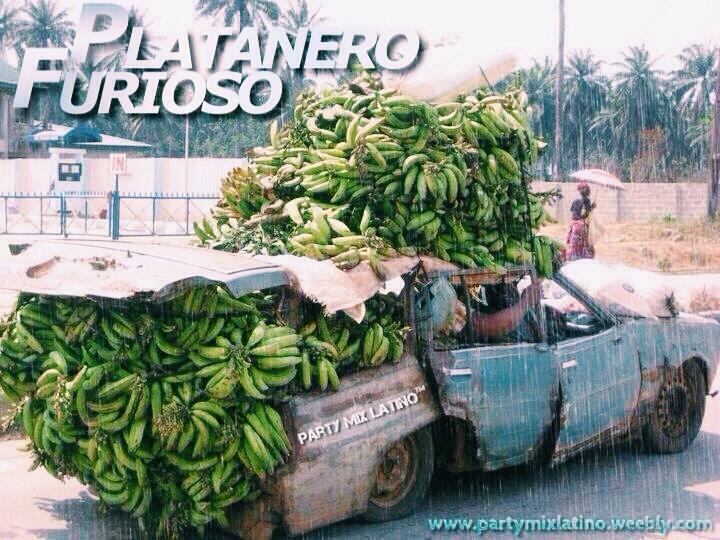 Not sure if this photo is actually from Nicaragua or not, but certainly lots of old vehicles go to market loaded in plantains. I should know, I'm one of them!
Taking Fruit to Market
As you go towards Managua early in the morning, before the 7-9 am rush hour on Carretera a Masaya, you will see lots of these sorts of vehicles bringing fruit to market. One morning I was going downtown and a truck full of pineapples was in front of me. As they got to the downtown stoplights, the street kids, window washers and assorted vendors were asking for a pineapple. The guy in the passenger seat gets out of the cabin, and hangs onto the back of the truck. Not to protect the pineapples, but to start tossing them out to the kids on the street! Everybody got a pineapple that day…love that story about the heart and soul of Nicaragua.
I may not be known as the banana man, but I've had my runs to go to the market and sell my fruit. My good day is when I have a pickup or a drop off at the airport of Managua scheduled and I can also load up on plantains to sell on the way back at the Mercado Mayoreo, the fruit and vegetable wholesale market.
I usually don't make much, and it does make one realize how hard our farmers work for such little recompense. Believe me, I fight to get 2 cordobas a plantain! They retail for 5 cordobas so I figure the vendors are getting a good deal.
Recently, my MIL started taking plantains into the countryside, way out there and selling plantains from here, Managua to the folks out there, in the rural areas. I don't understand it, but they sold and at a better price then we could get for them in Managua. Even including the cost of shipping them on the bus!